Open Source ERP & CRM for Business
(sme or large companies, freelance, foundations...)
Dolibarr ERP & CRM is a modern and easy to use software package to manage your business (customers, invoices, orders, products, stocks, agenda, e-mailings, shipments...).
An all-in-one suite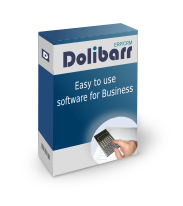 You enable
only the feature you need
. So whatever is your business management need (sales, human resources, logistic, stock, invoicing, accounting, manufacturing, etc), you are able to setup the application to match your need and only your need. Integration between the
features/modules
 you decide to use is ready "in-the-box", so, even without customization, users are immediately ready to work and won't have to make any double entry on your information system.
Because upgrade of new version are, by design, integrated into development process, you can upgrade at any time to the last version, whatever is your current version, without losing any data. So users always benefits the latest features and innovations.
Our market place is available to all developers and organizations, to centralize several hundreds of external add-ons, done to enhance the application with specific need. So you can extend yourself the possibility of your application with no need to make any specific development.
A FOSS (Free Open Source Software) model
Our Open Source and free model allows us to provide a competitive solution: Several thousand of developers, testers and translators works on the project. That's why it's possible to be always at the forefront of innovation.
Also this model allows us to have a very large end users base, so we can enhance the user interface from a lot of feedback. This is an important factor why Dolibarr is known to be the easiest ERP and CRM of the market.
A multi-distribution model in a rich eco-system
You can install and use Dolibarr as a
standalone application,
or online
on a shared or dedicated server or virtual machine
to use it
from anywhere, any desktop, tablet or smartphone
. It is available in various forms: From
auto-installer packages
 that install Dolibarr and all prerequisites with no need of technical knowledge, of from the
standard distribution
working on all Operating System platforms and PHP architecture (Windows, Mac, Linux). Dolibarr is of course available as
SaaS application
on ready to use
Cloud services
.
Because it's Open Source software, you can rely on the Open Source company of your choice to assist you or make specific development if you need so.
Details

Written by G Branquinho Ginja
Category: Actualidades
Published: 13 October 2018
Hits: 315
     
Version 8.0.1 was released on 02/09/2018. It brings a lot of new features compared to version 7.0.

 

Warning, PHP 5.3 is no longer supported. the minimum version is PHP 5.4 now.

Here is a summary list of new features:

- Adding imports to the general ledger

- Important update of the Stripe module

- Added statistics in the salary module

- Addition of Romanian accounting plan

- Formatting phone numbers

- Adding a RGPD contact field in your company profile

- Adding a card for the accounting firm of your company

- Complete management of assets in supplier invoices

- Added "html" type for additional fields

- Added filter in various lists and look v8

- Added a function to check if pdf files are protected / encrypted

- Better performance with openldap

- Adding the export of leave requests

- Improvement of VAT reports

- The product variant works for services

- Use of a "+" pictogram for "New" buttons

- Payments made via online payment modules (Paypal / Stripe / Paybox) are recorded in the form of the corresponding invoice

- Ability to send an email from the project form

 

And many other improvements for your pleasure!

 

New module (Experimental)

- Ticket module

- WebDAV module

 

New module (Development)

- Fixed assets module (Assets)


Changes for developers
Developers can refer to changelog for updates.
Details

Written by G Branquinho Ginja
Category: Actualidades
Published: 18 February 2018
Hits: 545
We will be present and we will present Dolibarr to business partner in this event, Hub Cámara Santo Domingo 2018, the largest business event in the Caribbean.